2021 may still be a time of uncertainty, but we know for certain that Jesus is still on His throne and He is accomplishing His mission in and through His Church around the world, including here at Riverside Church.
Despite the restrictions we are still navigating, we continue to experience that the God we serve is never restricted! So we have so much to praise God for!
Throughout the entire month of March there were children, students, and adults who said they said 'Yes!' to Jesus as Lord! Only God!
It has been great to continue regathering in person at our campuses again, and each week we are seeing both new guests, as well as more Riversiders starting to reengage in person again! In fact, at 3 out of our 4 Sundays in March we had the highest number of people attending in person (it was the largest first on March 7, then was larger again March 21, and then was larger again March 28!).
Our online campus is also touching many lives each week, as well; as a reminder, if you and/or members of your household have underlying health issues or are high risk, or are simply not feeling well on a Sunday or are traveling, we are so pleased that you can stay connected to our online campus, too!
In March our giving rebounded a bit, especially the last 2 Sundays of the month, and we praise the Lord for this and thank each of you who do give to work of the ministry at Riverside. We are praying this will become a trend for the rest of 2021 as this is a significant indicator of our church's and household's spiritual health and growth.
Thank you for being outward-focused as a church. It makes such a difference in the life and health of any local church to keep the passion and priority of Jesus THE first priority of how it functions and ministers. The opportunities are there every week to invite people to either "come and see" in person, or "come and watch" with you online, and this was especially true for Easter weekend (April 2-4). Make sure to be inviting people to our new series starting after Easter called Real ID.
Digital giving makes such a huge difference in so many people's lives here, and now more than ever, it is the main way people can give even when we cannot meet together. It helps people develop the consistent practice of the grace of giving and putting God first in their finances. Between 70% - 90% of all our giving happens digitally, and we have more households making reoccurring digitals gifts than ever before! Join the growing number of people at Riverside who are discovering how this makes such a difference in their spiritual journey. You can always give it a try.
Pray for everyone who considers Riverside Church their spiritual home to practice the grace of giving and generosity being just a "normal" response for our church so we can reach more people for Jesus.

Thanks to all of you who give to the Lord's work through Riverside Church. It makes a difference in real people's lives here and around the world every week.
Both the opportunities and obstacles we face are very real, and this is actually more true than ever in these days of COVID-19 as well as the political and cultural tensions that show us that we live in a deeply divided nation and world. This is true for any of God's churches seeking to partner with Him in making a Kingdom impact. Keep praying that God will clearly lead and empower and care for us as we have regathered with all areas of ministry moving forward.
God is at work in and through Riverside (Remember, Riverside Church has NEVER CLOSED!), touching the lives of thousands of people in significant ways. Your gifts help make that happen, both now and for eternity.

God bless you all!
Pastor Tom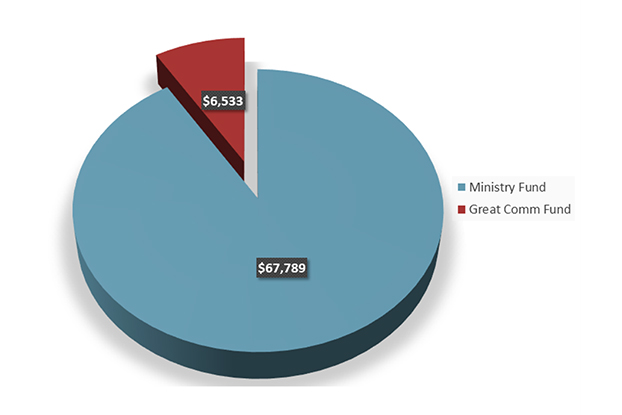 Weekly Averages for MARCH 2021
For the Ministry Fund & Great Commission Fund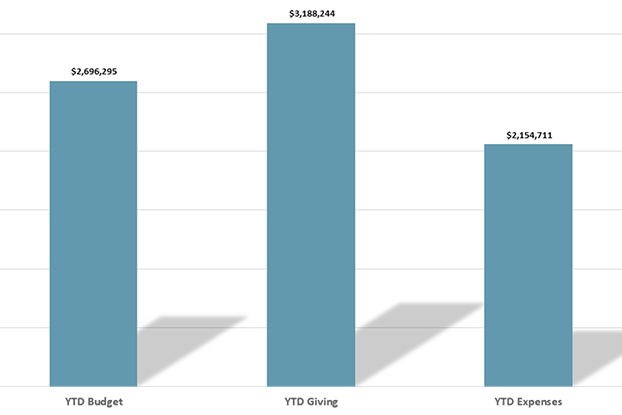 Financial Figures for MARCH 2021
Actual Giving vs. Actual Expenses
YTD Approved Budget ($2,696,295) - YTD Giving ($3,188,244) = YTD Difference (+$491,949)
YTD Approved Budget ($2,696,295) - YTD Expenses ($2,154,711) = YTD Difference ($541,584)


Actual Giving vs. Actual Spending
YTD Giving ($3,188,244) - YTD Expenses ($2,154,711) = YTD Difference ($1,033,533)